プラナリア / Planaria
There was a creature that I really wanted to catch for a long time. When my kids said they were free, I took them outside with tools and finally caught it.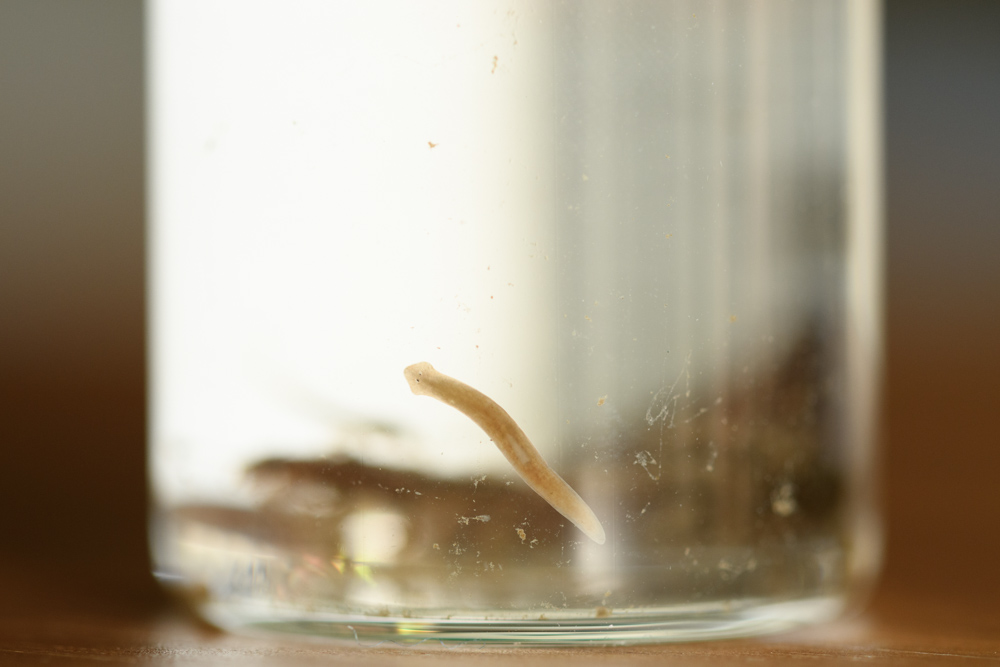 This is a planaria (scientific name: Trichladida). According to Wikipedia's description of planaria,
"In biology, the term "planaria" is often used in Japan to refer to dugesia japonica". Therefore, I think it is probably a dugesia japonica (it has a triangular head). It's a real world creature, but it looks like some kind of character has jumped out. If you have a magnifying glass, you can see the face. You can also see it with the naked eye if you try hard enough.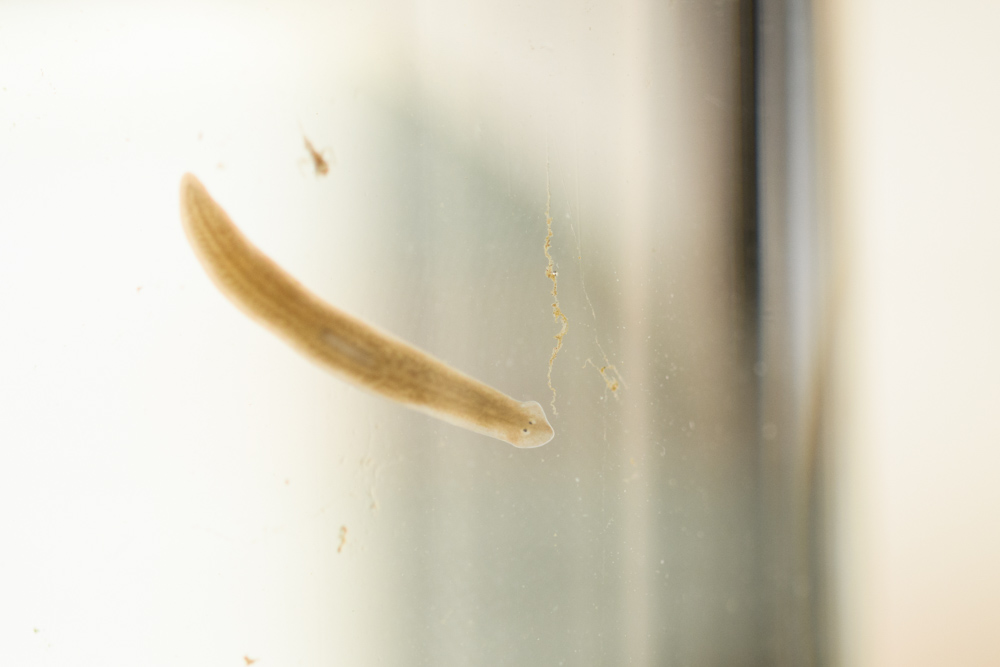 Catching planaria is easy. In a shallow stream, turn over a stone and observe the underside. A calm current seems to be good. As you watch intently, various creatures will start to move. If you see a creature about four millimeters in size, moving in a gnarly, slug-like motion, it is a planarian.
If the river looks like this, I'm sure they're there.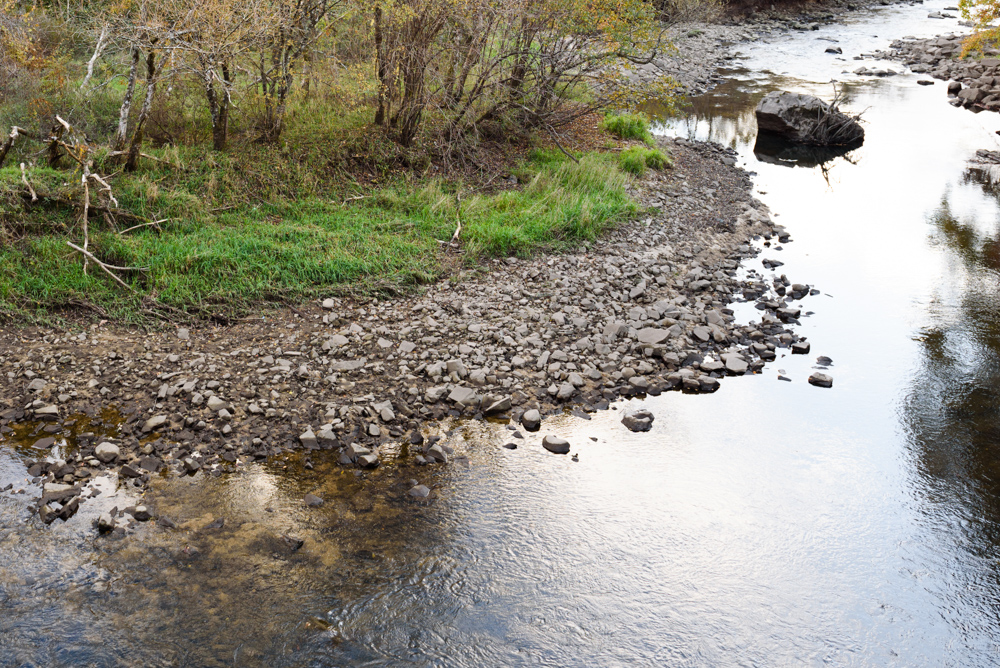 Using something like a small brush, scrape it off without damaging it and transfer it to a small bottle.
Incidentally, about four other kinds of insect-like creatures were also captured together in our house. However, after observing them for a while, I noticed that the insects were somehow struggling together in a dumpling-like state. A closer look revealed that the planaria were wrapped around them. Again, according to Wikipedia, "They feed mainly on aquatic insects such as mayfly larvae", so the insects were being eaten.
I could have observed their predatory behavior, but I felt sorry for them, so I returned the insects to the river and observed only the planaria.
In addition to capturing the first stone, I was able to capture four more in about 15 minutes. They seem to be sensitive to water quality, so we need to choose the right river.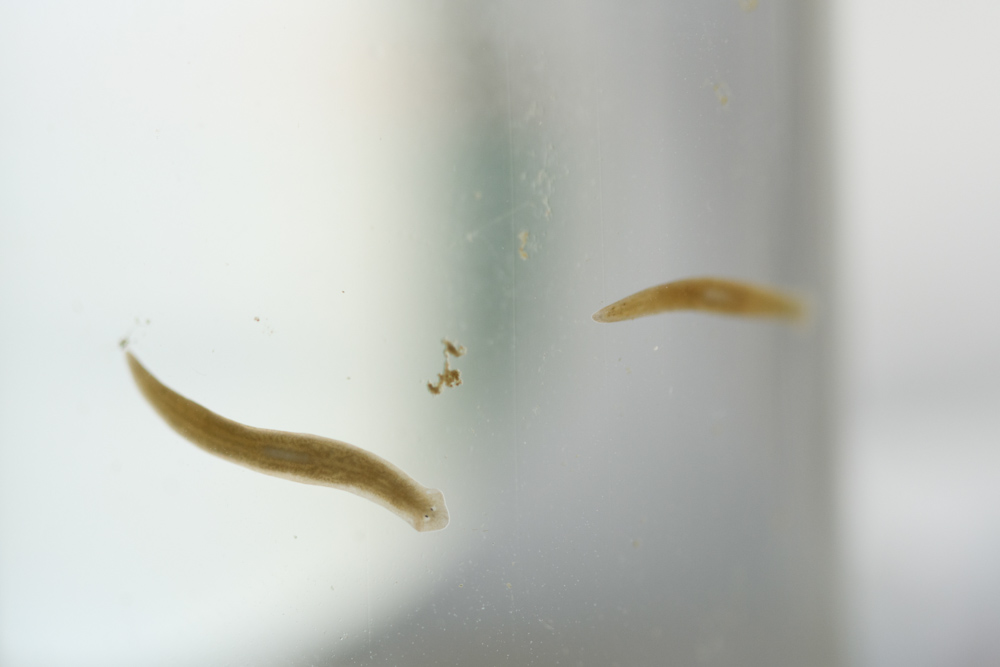 Now, this planaria is very famous among some. As you can easily find out by Googling it, it has an extremely high body regeneration ability, so even if it is cut off, it will regenerate from anywhere. A head grows out of a tail, and a tail grows out of a head. There are many reports about cutting experiments, so I'll leave it to others (if you are not good at it, don't search for images). I'm going to cut it in two for now and observe the progress.